Character Info
Name: Monica Kujiku
Alias: Moni,
Birthday/ Age: X504/ 21
Gender: Female
Sexuality: Bi
Appearance
Spoiler:
Height: 5'7
Weight: 112
Personality: Monica is quick to think, she is a true warrior, the holy order has had its influences on her, making her slightly cold hearted, but mostly only to those that are her enemy's.
Likes: Monica Enjoys the first light and the Last Light of the sun
Dislikes and Fears: Monica Dislikes eclipses. And intensified storms. Monica Fears a Death outside of a battle. Fear of not being a legend when she dies in battle.
Abilities Monica is Quick and Agile, she is not very enduring but is very hard to hit.
Strengths: Can Move quickly with grace and speed, avoiding attacks and bringing in other attacks from difficult angles.
Weaknesses: Monica cant Take to many hits and her sense of Rage against an enemy the dose hit her,
Guild
Name: Holy Order
Tattoo: Monica's Tattoo is placed on the top of her Sword hand ( Right handed)
Magic
Magic Type:
Molecular Repel Magic
This Magic is very similar to that a wind mage might use, by forcing the area around her she expels pure Mana that Pulses from every direction around her and moves everything around her, the more Mana used the Heavier the push and the Larger the Radius.
Molecular Retraction Magic
This Style of magic is used like a Reversed repel. Instead of pushing the surroundings away she can Pull Everything towards her, but unlike her other style of magic she may Condense and Aim the Retraction in directions.
Gravity Distortion
When Monica Activates it she Becomes Blurred and able to move in an inhuman way ** the distortion makes others see her In smoky mist like way,* This is done by Rapidly Pulsating and contracting the Small Distance in front of her, making the range of vision when looking at her Blurry and out of focuses no matter how close you are.
Magic Seal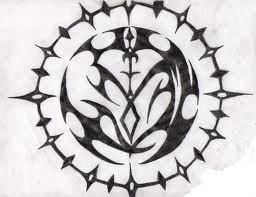 Strengths: this Magic Style is all about not being hit, being Quick and Pulsing allows her to keep her Distance and Throw off the balance of her opponents so she can Make Swift and Deadly Blows.
Weaknesses: This Magic's Weak point is its not a good Team ability. If her allies are near by she will force hem away or closer as well. tactical stikeing and Blind Spots.
Weapon Name: Thorn
Magical Properties: This Red Blade Glows a Dark Red and Creates a even Sharper Edge to the Blade when it activated by Monica and anyone else of the Kujiku clan it also has 8 runes on the Blade it is currently at full, but the Blade holds in it, the Mana of the elders of the Kujiku Clan, when the wielder of the blade is Skill full enough they can Tap into the Mana. ( Monica is only able to tap into the 2nd Rune. 2/8 when the User masters the Blade they can Unleash the 8th Rune the user could divide the earth. (( This will never be Achieved ever it is purely There as a Legend )) when the Rune is Relased the elderes Mana is pushed through the blade into the Weilder. replenishing the Weilders mana, this can only be done to the amount of runes the user can activate.
Weapon Appearance: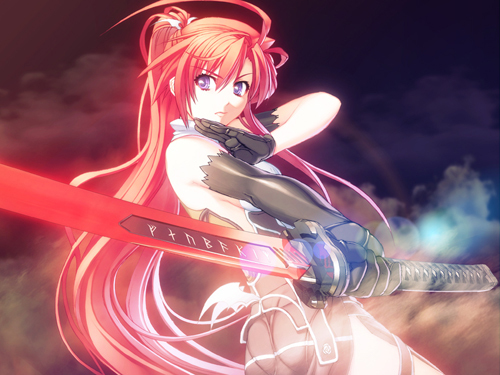 Weapon History: This Blade is Past down in the Kujiku Family, as part of their Clan's Crest. The Eldest Female is awarded Thorn when they pass their Final Test, and the Eldest Male Is awarded with a Long thin blade named " Reaper" This Blade is only Slightly different then Thorn, as for it Makes a Jagged Edge along the Blade out of the users Pure Mana
Background
Monica was brought up in a Strong house hold, Monica's mother And father were high ranking officers in the holy order, so naturally when she become of age she Joined up in order to make her parents proud, around the Age of 13 her father was killed in battle, while Guarding Lady Mika Herself. Monica was Very proud Of her father, and honoured him, Her Brother Kai took on the rank his father was. When Monica's father died, her mother gave her, her last Test to see if she was able to gain the rite to the family's heirloom
Monica Bested her own mother in Battle and was gifted her mothers Blade. (Thorn) after much Training over many years. Monica Asked to see Lady Cross, and eventually after a Very Successful Capture Mission Lead by Monica, Lady Cross Wished To see her.
Monica walked in and awaited to be seated. Mika Just Glanced at her then continued to Stair out the massive window in her office. " You wished to see me, Milady? " * Monica Nodded, and bowed low to show her respect. Then taking a Kneel before her. Mika Told her of a Mission that she wanted Monica to Carrie out. If she so chose to do it she would be awarded a High Rank in her army. (( I Wish to be tested by a Admit to see how this goes, in order to see what place I will hold in The holy order.))