Character Info
Name: Marcus Stðrm
Alias: Arashi (Storm)
Birthday/ Age: July 31st X505, 20
Gender: Male
Sexuality: Striaght
Appearance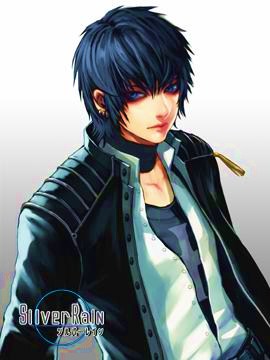 Eye Color: Blue
Hair Color: Black
Height: 6' 2''
Weight: 180lbs
Personality: Marcus is easy going, and meek, he doesn't care when people give him orders. However when it is time to get serious he is like a completely different person. He is treated almost like a one man army because he has no blind spots.
Likes: Getting his job done so he can go relax or train. He even enjoys when some people act out so he can despose of them.
Dislikes and Fears: Dislikes when most people act out, when people attack the order, people who interfer or try to interfer, or are just too noisy.
Abilities: Marcus has no blind spot because he uses the air around him as his eyes, the closer you are the better he can see you, his range has yet to have been found. His sight increases further in storms/rain/snow/heavy winds.
Strenghts: Though Blind his advantage comes from his years in sword training, and that he uses the air around him to replace his eyes.
Weaknesses: Marcus goes blind if he tries to use his higher end spells because then he gathers his magic to use the spell then when he is using a small spell.
Guild
Name: The Holy Order
Tattoo: Left Shoulder
Magic
Magic Type: Wind Manipulation
Spell Name: Zyphr
Spell Effect: A massive lightning filled tornado launched from his sword, high end spell goes blind when he launches it, sight returns once the spell is over.
Range: Long-ranged
Spell Rank: A=Ranked
Spell Name: Vanish
Spell Effect: Fuses with the wind allowing him to move faster, he can not touch stuff as well as he can not be touched. Low end spell.
Range: Passive
Spell Rank: C-Ranked
Spell Name: Air Walking
Spell Effect: Keeps his body solid, but air passes through him making him much lighter and faster and invisable to ocular senses. Low end spell.
Range: Passive
Spell Rank: D-Ranked Spell
Magic Seal:
Appears on right shoulder.
Weapons:
Sword,
Chains.
Magical Properties: The sword will not break not rust nor dull. The chains will not break. Marcus moves the wind around his chains so that they move on their own.
Weapon Appearance:
Weapon History:
Marcus recieved the sword from his father, it was family tradition that it was pasted down. He had gotten it on his twelve birthday, it was also the last time he had seen his father before a rebellion against the order destroyed most of his village and got his family killed. The chains were a prize he had gotten when he was 16, he had trained on his own for 4 long years until he had found the man reposnsible for the rebellion and took his head. When the order had heard of such young talent they took him in, but when they went to continue his training he took down 5 of their best swordsmens, at once.
Background
Past:
Marcus grew up in a now destroyed and forgotten village. He trained himself on how to see since he was 10 and how to use a sword since he was twelve after the death of his family and village. On his twelve birthday Marcus recieved his sword from his parents as a gift. Later that day a rebellion broke out the collateral damage killed most the village, Marcus' family died in the process. For 4 long years Marcus survived and trained in order to get his revenge on the man responsible. At the age of sixteen he hunted down and kill this man which is where he got the indestructible chains. When The Holy Order heard about a 16 year old boy killing the man responsible for the deaths of so many Order members, something the order had not managed to do, they knew they had to have him. So they found him and took him in. Marcus accepted knowing he could help change the tides of war, and he did so with great valiance.
Present:
Marcus resides in the Tsun city mainly staying close to General Kilvas who Marcus serves without question, without hesitation. Marcus is in high standing with The Holy Order, having been offered many promotions, one which would put him above General Kilvas, Marcus always refused mainly out of loyalty to Kilvas. Most of the rebels want Marcus dead because when he enters the battlefield the Order takes full control of the battle, no one knows that he is blind, nor how he can see every detail of everything and plan it out so perfectly, they think it is just a natural talent, but Marcus knows, and it is good enough for him. Marcus got the nickname Arashi (Storm) because when he was incharge of a mission or enter the battle front he took it by storm and ended it will few casualties to his side.
Future:
Marcus plans to continue being the tool that helps win the war for the order and will not anyone or anything stop him from reaching victory.