Character Info
Name: Reina Kyousuke
Alias: The Storm Caller
Birthday: December 13th X507
Age: 18
Gender: Female
Sexuality: Gay
Appearance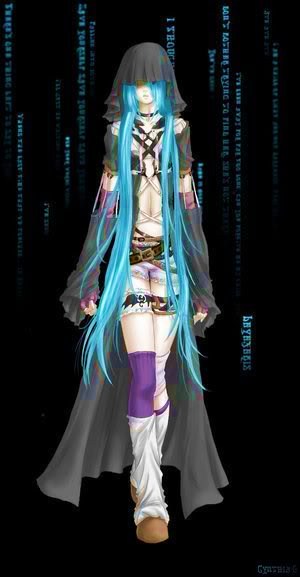 Eye Color: Blue
Hair Color: Blue
Height: 5'7''
Weight: Varies, Average Weight Is 120lbs
Personality: Reina is a shy but eager person, she likes to make friends but never knows where to start. She is easily amazed and not easy to disappoint. She is very distrustful of everyone at first and normally hides her face and her never gives out her name.
Likes: Water, reading, quiet places to sit and think.
Dislikes and Fears: Dislikes the order because of something they took from her, fears what she might lose forever.
Abilities: Reina can manipulate the liquid mass of objects including herself to make herself or other objects heavier or lighter. *requires focus on objects other than herself*
Strengths: Reina is fast both physically and mental, she can think on the run and is highly agile.
Weaknesses: Reina being small if very fragile meaning direct hits will cause a large amount of damage.
Guild
Name:
Rank:
Tattoo:
Magic
Magic Type: Water and Ice Manipulation
Spell Name: Ice Field
Spell Effect: Reina freezes the water in the ground below and thrust the spikes upwards in a five foot circle. It acts as a defensive wall, a gap maker and a surprise attack for those who venture too close.
Range: Short Ranged
Spell Rank: C Ranked
Spell Name: Ice Maze
Spell Effect: Walls of ice reflective like mirrors rise up in a maze shape 20ft tall, with a ceiling over top. The only way in is to be trapped in it and the only way out is to bust through the regenerating walls or take her down. Reina can move freely through the walls of this Maze and knows where everyone is in it. The Maze moves with her so she is always in the center. Meaning parts of it are added on and other parts disappear as she moves around. *this is all silent*
Range: Long Ranged
Spell Rank: S Ranked
Spell Name: Mist
Spell Effect: A thick shroud of mist which Reina uses to hide or run. She is just as blind in the mist as anyone else so she has to be careful while in it or using it. However it increases the amount of water in the air giving her increased spell use.
Range: Long Ranged
Spell Rank: D Ranked
Spell Name: Water Ice Bomb
Spell Effect: smalls balls of water which explode into ice flash freezing things in a four foot area around it.
Range: Short Ranged
Spell Rank: D Ranked
Spell Name: Ice Camo
Spell Effect: Reina places a thin layer of flexible ice around her body that reflects the light around her body making her appear invisible.
Range: Passive
Spell Rank: C Ranked
Magic Seal:
Strenghts: Full Moons Double Reina's Powers. Solar Eclispe give Reina 50% increased powers.
Weaknesses: New Moons and Lunar Eclispe Make Reina's Powers Disappear.
Weapons
Weapon Name: Reina's main weapon is her whips, however she does have a few other weapons, kunai, shurikans and trip wire for traps.
Magical Properties: Reina can imbue her weapons with the ice element. With her whips it creates spikes of ice which allow for better grip. *there is no cooldown on charge limit on the whips*
Her kunai and shurikans get the same effect as her 'Water Ice Bombs' The kunai and shurikan have a 3 post cooldown and a charge limit of 5 each. 10 in total.
Weapon History:
Reina recieved the whips from Katarina as defense incase The Order ever came, which they did.
Background
Past: Reina lived in Azalea Town for as long as she could remember ever since running away from home. This is where she met her love Katarina. She had never left town for any reason, what reason was there to leave everything she needed and wanted was there. Reina was trained along side Katarina in her art of tactical take downs and weapon use by the Elders of Azalea Town. Reina had to learn her magic on her own since no one else in the town knew water or ice magic at the time. One day when Reina was returning from her magic training she found her house trashed. The neighbours told her how The Order had come and taken Katarina away, this is what drove Reina to join the war, she would find her beloved Katarina at any cost.
Present: Reina now roams around from place to place with no definite place of living. She is not well known in either the Rebels or The Holy Order, she does her best to keep a low profile while gathering any information she can. With the help of her training even if she has to make a big scene to get information no one ever gets a chance to see her face or what she is wearing meaning that no one can describe her. This is why she was given the alias 'Storm Caller' because that is what she was known as since she would summon forth massive rain storms to drown out her conversations from others and hide herself or summon forth her mist to cause the whole town to go blind until she lifted it.
Future: Reina's goal is simple, she is going to rescue Katarina.